Introducing Aurora Pass: Your Gateway to the Decentralized Web
Our brand new mobile crypto wallet for the Aurora networks!
Today, we are thrilled to present you with Aurora Pass, our brand new mobile crypto wallet for the Aurora networks!
With Aurora Pass, we are moving one step further in fulfilling our mission to make web3 accessible, opening the path to mass adoption of blockchain technology.
Navigating the Crypto Maze Just Got Easier
Through years of experience, we've identified some common challenges our users face in the realm of web3:
Onboarding into a new wallet can sometimes be confusing and time consuming
Understanding gas fees and acquiring assets for them can be a daunting task, often involving centralized exchanges, KYC process and hours if not days of delay, before even being able to use the wallet
Interacting with decentralized applications is not simple, usually involving a browser wallet, and using them on your favorite mobile browser is just not available
Ensuring the safety and security of digital assets can be a challenge
We built Aurora Pass with these challenges in mind.
The Aurora Pass Experience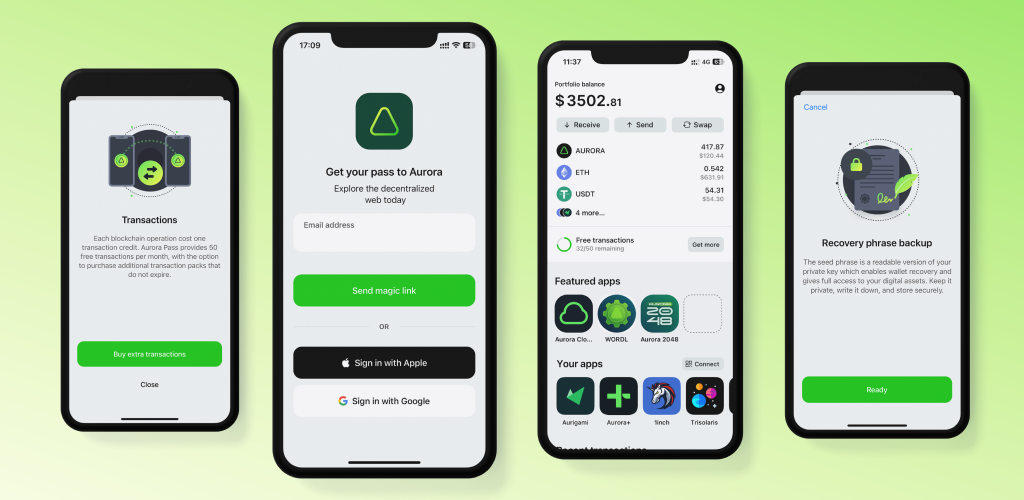 Aurora Pass is designed to reflect the experience that we are all familiar with on the web today:
Easy sign-up process: Sign up with your email, Google, or Apple ID. Your wallet is created in seconds!
Convenient security: Export your private key whenever you want. No more lengthy onboarding.
No transaction fees: Enjoy 50 free monthly transactions, enabling interaction with the Aurora ecosystem without concern about gas costs.
Web3 at your fingertips: Sign into dApps and transactions from your device, whether the dApp is accessed on mobile or desktop.
Security and Convenience
Aurora Pass is a non-custodial wallet, which means that you are in control of your digital assets and Aurora Labs does not have access to them.
When you create your Aurora Pass wallet, a recovery phrase is generated that provides access and control to your wallet. This recovery phrase is encrypted and stored in the secure enclave of your device. Only you can enable its decryption by entering your PIN or using the biometrics system.
Your recovery phrase will be needed to retrieve your wallet in the event of loss or theft of your device. This is why we recommend that you make a copy of this private key.
But, unlike other wallets, you can choose to export your private key at any time, and this is not a mandatory step for onboarding, which means that you can get up and running almost immediately with Aurora Pass!
Elevate Your Experience with Free Transactions
Transacting on the blockchain requires a fee, called gas fees.
This is a major problem for usability as gas fees are unpredictable and often expensive. A single transaction on some of the main blockchain networks can range from $5 to up to $50+!
At Aurora, we believe that blockchain technology should be accessible to all and as such our gas fees are already some of the lowest in the blockchain industry.
Aurora Pass takes this even further by intorducing 50 free monthly transactions. This applies to any operation on the network and the count will reset to 50 each month on the date of your wallet creation.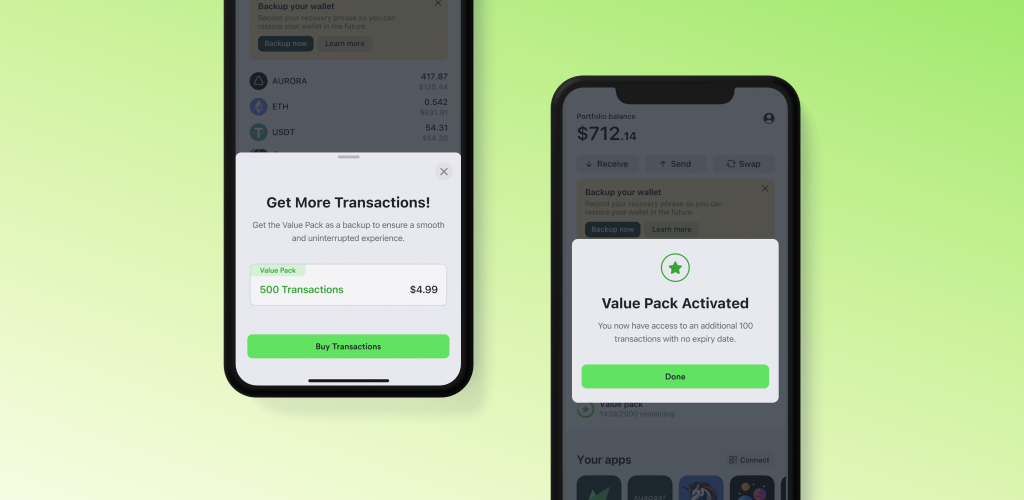 Do you need to make more transactions?
No problem. We are introducing transaction packs that you can purchase directly from the app. The transaction packs will be added to the number of free transactions.
First, we are proposing a 500 transaction pack for $4.99, which results in less than $0.01 per transaction! More importantly, it means that you have total transparency around what your transactions cost and how many you have left to use.
Aurora Pass Unique Connectivity
Aurora is an ever-growing ecosystem. With the introduction of Aurora Cloud, businesses are now able to create their own dedicated Aurora blockchain which is tailored to their customer's needs.
Aurora Mainnet and Aurora Silos are referred to as Aurora Networks, and it is a no-brainer for us that you should be able to use any product across these networks seamlessly.
Aurora Pass enables you by default to interacting with any of these silos, which means you can navigate the whole Aurora ecosystem easily!
A Flourishing Ecosystem in Your Palm
Whenever you connect to a dApp with Aurora Pass, it will be saved and appear in your list of dApps on your homescreen ensuring that you can easily jump back to where you were.
In the featured apps section, you'll find a selection of dApps that you might be interested in. From new releases to popular ones, there's always something to look out for in the Aurora ecosystem!
The Beginning of a Discovery Journey with Aurora+
Aurora+ is your entry point to the wonders of the decentralized web.
You can access Aurora+ by following the link on your homescreen and signing in with Aurora Pass. From there, you can:
Participate in our staking mechanism to receive passive rewards on your assets
Acquire new tokens by swapping your existing assets
Explore all our ecosystem apps, organized in categories to help you find what you want
Get news from the Aurora ecosystem and always keep up with the latest development!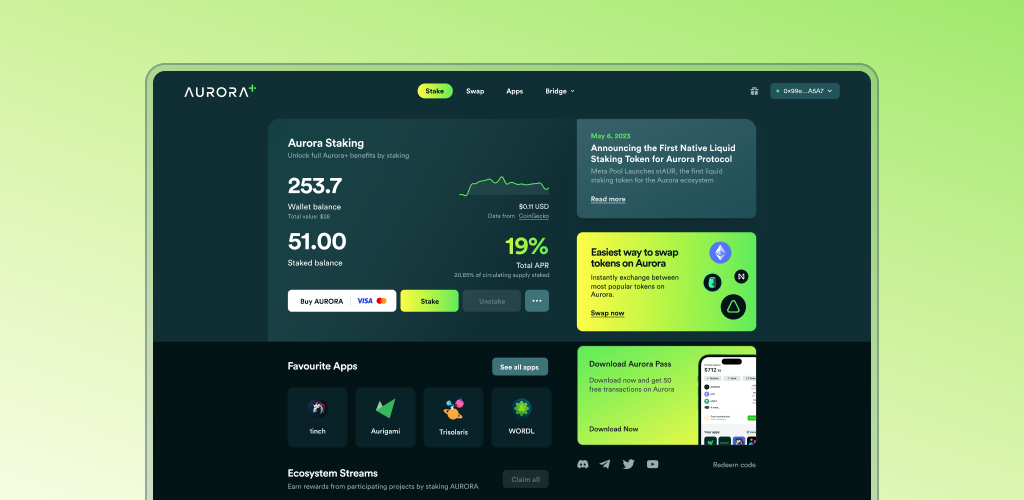 Are you an existing Aurora+ user?
To provide you with the best experience, we are modifying how Aurora+ currently operates. Aurora+ won't require signing in with your email anymore, but instead will let you sign in with Aurora Pass!
Read more about the transition of Aurora+ as a dApp here.
Aurora Pass Availability
Aurora Pass will be available on Android and iOS.
We will publicly announce its release in a few weeks but you can already register your interest in the link below, so you will be notified once it becomes available and be the first to try it out!
Go to Aurora Pass!
Taking Aurora Pass to New Heights
We're committed to making Aurora Pass your go-to cryptocurrency wallet on Aurora networks. In the coming months, we'll roll out more features and enhancements based on your needs and feedback.
Your insights and suggestions are invaluable to us. Please keep them coming, and join us as we embark on this exciting journey into the future of the Web3 experience!
— Notify me when the app is available! Discover Aurora Cloud, our business suite of products Learn more about Aurora
---
About Aurora
Aurora is a platform for Web3 developers to build pioneering and scalable distributed applications. Powered by its high-performance Ethereum Virtual Machine (the Aurora Engine) and fully trustless bridge (the Rainbow Bridge), Aurora combines the builder-friendly development experience of Ethereum with the modern blockchain performance of the NEAR Protocol to offer an environment for creating highly scalable, carbon-neutral, future-safe, and low-cost Web3 services.
Website | Aurora Cloud | LinkedIn | Twitter | Medium | Telegram | Discord | YouTube | GitHub | Regional Communities and Media| Governance Forum | Community Dashboard | Community Swags store | Aurora Expert Bot