Aurora Pass: Empowering Mobile-First Businesses to Embrace Blockchain
The Next Generation Web3 Wallet for Smooth Onboarding & Connectivity
The remarkable versatility and boundary-transcending ability of blockchain technology are constantly evidenced through the growing number of innovative use-cases across diverse industries. Yet, many businesses are unable to leverage this technology due to a primary obstacle - a daunting onboarding process.
Aurora Pass, Aurora Labs' new Web3 digital wallet, is here to revolutionize your onboarding experience and grant you seamless access to a world of opportunities. With Aurora Pass we provide you with a user-friendly and intuitive interface and a highly secure wallet to begin your Web3 journey frictionlessly. Tailored exclusively for the Aurora network and Aurora Silos, Aurora Pass empowers you to provide added value with new experience without compromising ease. With just a few clicks, Web3 becomes easily accessible with Aurora Pass!
How Does it Work?
In the traditional approach, interacting with blockchain transactions often involved managing multiple wallets across different apps, hindering the full potential of blockchain's interconnectedness. Aurora Pass simplifies this process by offering a single, user-friendly mobile wallet. With Aurora Pass, businesses can seamlessly collaborate and tap into the power of blockchain through a universal transaction signer, enabling smooth cooperation across various entities.
By integrating your business application with Aurora Pass, your users will easily be able perform blockchain transactions with familiar tools. For instance, redeeming a loyalty NFT for a free coffee or exchanging it for a bottle of wine can be done seamlessly by switching momentarily from your company's app to Aurora Pass, where the transaction can be securely signed with the use of Face ID or fingerprint.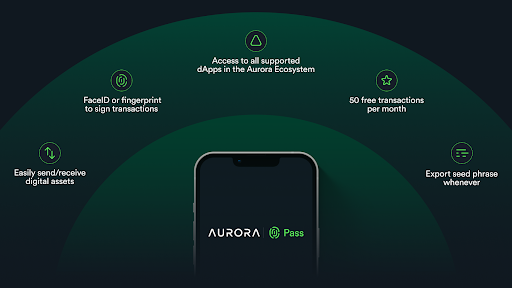 Aurora Pass offers a key innovation by aggregating all your assets and transactions in a single wallet, enabling businesses to collaborate by recognizing assets from other companies. With Aurora Pass, we envision a world where loyalty programs can reach their full potential through blockchain technology. Companies within the Aurora ecosystem can work together to unlock exclusive deals for their customers, encouraging loyalty and fostering usage. This collaborative approach will enhance customer experiences, streamline rewards, and increase engagement across businesses. But this is not all, Aurora Pass guarantees a seamless onboarding to users unfamiliar with Web3, allowing businesses to tap into the world of Web3 without burdening their customers with complexity.
Who is it for?
Whether you're looking to build on Aurora or simply want to enhance your mobile app's functionality, Aurora Pass is the key to unlocking a world of new possibilities. Aurora Pass simplifies the process of adding blockchain features to any business without the complexities of managing a separate wallet or burdening customers with additional tasks. With Aurora Pass, even newcomers to the world of Web3 can embark on their journey seamlessly, without grappling with unfamiliar concepts like gas fees. As a bonus, upon creating an Aurora Pass account, users receive 50 free transactions per month, allowing them to explore the benefits of the Aurora ecosystem effortlessly.
However, Aurora Pass isn't just for Web3 newcomers. While it doesn't replace your current Web3 setup, it offers unique advantages, including free transactions, network segregation, and the ability to interact with any business that supports Aurora Pass. With time, new features will be added that will continue to tear down limitations and provide a more comprehensive Web3 wallet experience for our users!
Getting Started
Embrace Aurora Pass today and unlock the true potential of decentralized technologies. Experience the seamless incorporation of blockchain features and foster collaboration in the ever-evolving world of Web3, get started now!
Download Aurora Pass: Apple Store: https://t.co/BbpDv7BWuc
Google Store: https://t.co/IJj09IyCvI
Watch out video: https://www.youtube.com/watch?v=wc0y4RivQ90
About Aurora Labs
Powered by its high-performance EVM, and fully trustless Rainbow Bridge, Aurora combines an Ethereum compatible experience with the modern blockchain performance of NEAR Protocol. Aurora provides an optimal environment for the creation of scalable, carbon-neutral, future-safe, and low-cost Web3 services, as well as the perfect tools to bring to life your Web3 initiatives. Try Aurora Cloud, our all-in-one blockchain solution for enterprises, and get your Web3 journey started!