Introducing Aurora Futures
The Aurora Futures token allows the rights to November AURORA tokens to be purchased today.
Executive summary
The AURORA_2211 token is a liquid, transferable ERC20 token (Etherscan) that can be redeemed one-to-one for AURORA tokens at this website on November 18, 2022. Its purpose is two-fold — allowing the broader community to access AURORA that is planned to be unlocked in November, and to ease selling pressure associated with that planned unlock.
Introduction
All Aurora Labs full-time staff receive compensation in two parts:
A salary paid in US dollars
An amount of AURORA tokens, that vest over a period of four years.
The token component of the compensation has a one year cliff, meaning that the staff does not own any of the first year's tokens, until they pass their one-year anniversary. Besides the cliff, for those who joined Aurora Labs early, there is a delay of delivery of the vested tokens until November 18, 2022 — exactly 1-year after TGE (the token generation event). This mechanism was introduced to protect the community from excessive unlocks from the early contributors.
(For additional general information about the AURORA token distribution, see this recently published blog article.)
The Problem
Many Aurora Labs staff have passed or will pass their one-year cliff before November 18. This means that they legally own 25% of their overall token compensation. However, these tokens are locked (unable to be delivered) until November 18, 2022.
There are staff who naturally would like to receive some amount of liquidity now for the AURORA tokens they currently own, but can't receive until November. This is primarily related to tax liabilities, i.e. many governments require tax residents to pay income taxes on the fair market price at the moment of token vesting. Since the vested, but locked, tokens cannot be transferred (and thus sold to pay the taxes), early contributors are exposed to substantial market price risk, since by November 18, 2022 the price of AURORA could theoretically drop such that capturing the tax liability isn't possible.
The above problem is typically solved through private agreements between staff members and third parties to buy the rights to the tokens that will be delivered at the unlocking date. Though this approach works well, it can be improved to take advantage of the decentralization and permissionless principles of the blockchain.
An additional concern is the risk to the token market, given the size of early contributor unlocks. Aurora Labs recently performed a step to protect the Aurora community from this problem by delaying the unlocking schedule for the staff (see this recently published blog article).
We care a lot about the community, and would like to decrease this risk even further.
The Solution — Aurora Futures
The solution that we've designed is called the Aurora Futures token, known as AURORA_2211.
Aurora Labs has developed and deployed a smart contract on the Ethereum network that allows AURORA_2211 tokens to be minted by locking AURORA tokens into the smart contract. These AURORA_2211 tokens are liquid, tradeable and fully transferable as any other ERC-20 token.
On November 18, 2022 at 00:00 UTC, the same smart contract will allow AURORA_2211 to be redeemed on a one-to-one basis for AURORA tokens at the following web page:
There, you'll find the current circulating supply of AURORA_2211, the smart contract address, as well as a redemption area that will become active on November 18, 2022 at 00:00 UTC.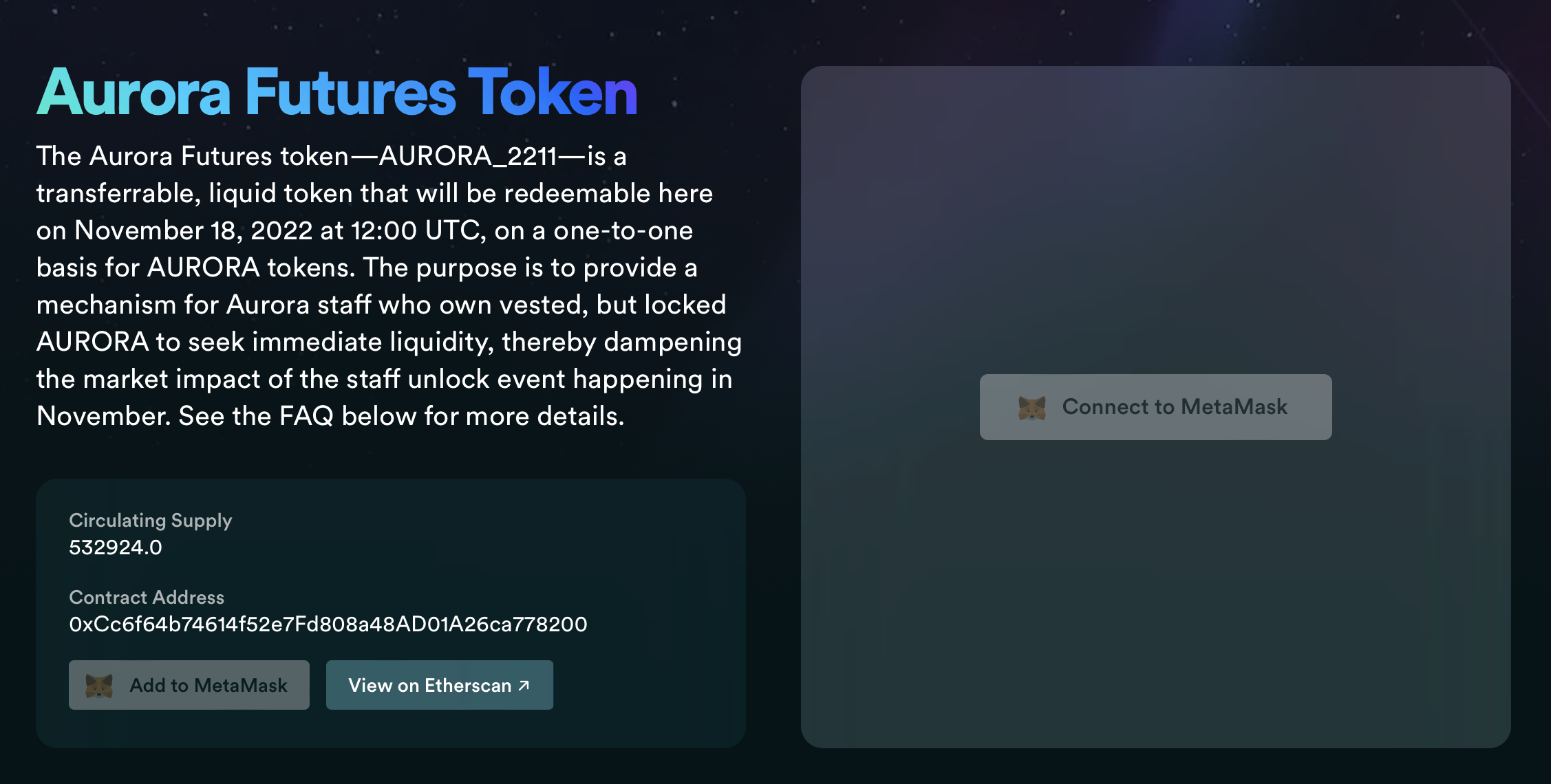 Here are the benefits:
Aurora staff can, today, requests the Aurora Finance department to mint and deliver AURORA_2211 tokens corresponding to the amount of AURORA tokens they currently own through vesting. They can allow the wide community to purchase these tokens via private OTC deals—using trustless platforms like Diversifi or Airswap—via single-tick (fixed price) Uniswap V3 pools, or even via older Uniswap V2 pools. Although these futures tokens would typically be sold at a discount to the current market price, it does provide a mechanism for these staff to access early liquidity to decrease the risk of not fullfilling tax liabilities.

Given that markets for AURORA_2211 will naturally and organically form, its price should converge to the market price of AURORA as we approach November 18, 2022, thereby attenuating the market impact of the unlock on that date.
What's next?
Feel free to poke around the Aurora Futures site, read the detailed FAQs about how it works, and if you'd be interested in getting in touch with staff who have elected to have these tokens minted, just reach out to support via the icon in the lower right corner.